Buying a newly built home is a great way to buy a home you love without the hassle of a fixer-upper. But another big benefit is giving homebuyers an edge in today's market.
According to the latest data from the National Association of Realtors (NAR) and the Census Bureau, new homes beat existing homes when it comes to availability.
If you're in the market to buy a home in 2017, a newly built home just might be your ticket to success.
Is a New Home Right for You?
A new home is awesome, but it's not for everyone. Let's take a quick look at the pros and cons.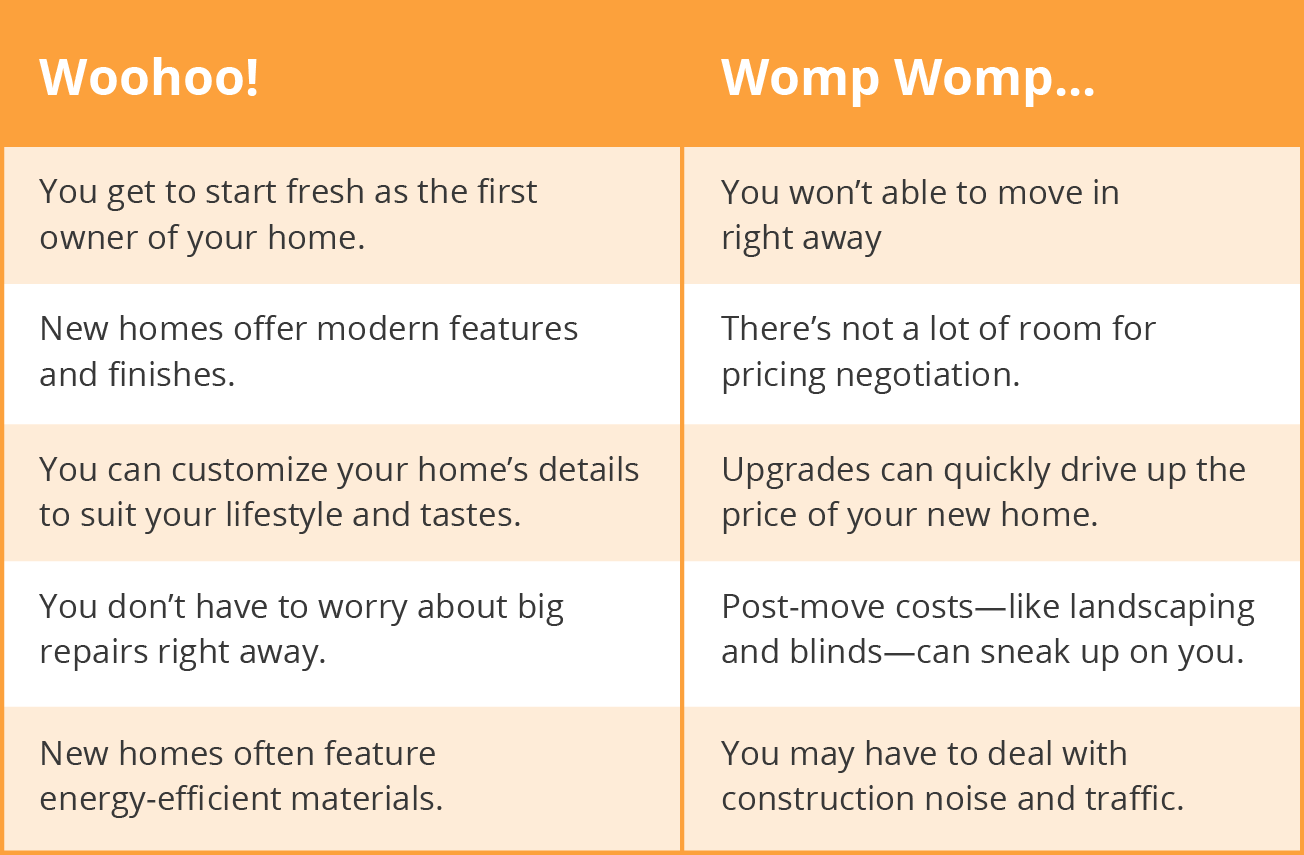 Think a new home fits your home-buying style? Then let's make your purchase the best it can be!
We asked Dave's real estate Endorsed Local Providers (ELPs) from two of the nation's hottest housing markets to share their secrets to a smart new home purchase. Here's what they had to say.
Come to the Table Financially Prepared
Bidding wars may be less common in new home communities, but buyer competition isn't totally out of the question. So how do you stand out?
"The builder's cost factor is determined by how many days they have to wait for escrow to take place," Phil Rodocker, a Seattle-based real estate ELP, says. He recommends minimizing contingencies for a quicker close.
The best way to do that is to get your money in order. Here's how:
Get pre-approved for a mortgage. This takes the guesswork out of financing and shows the builder exactly how much the bank will lend you.


Stick with a home you can afford. That means keeping your mortgage payment to 25% or less of your monthly take-home pay on a 15-year, fixed-rate conventional mortgage.


Stockpile cash—and lots of it. Dave recommends saving up at least 10–20% for a down payment on your new home. You'll also need cash to cover builder deposits and closing costs.


Sell your home first. Own a home and need to off-load it to fund your next one? Get it sold before committing to a new one—even if you have to rent temporarily.
Bring Your Own Real Estate Agent
You might think you don't need a real estate agent for new construction. After all, most home builders have an on-site agent to help you with your transaction.
But the builder's agent may not always put your best interest first.
Amy Ryan, a real estate ELP in Denver, used to work as a new home sales consultant. "Builders are great, and they're amazing to work with," she says. "But having a third party involved helps make sure that it's a fair deal for everybody."
Just be careful when touring model homes on your own. If the on-site agent asks, tell them you're working with an agent. "That gives you time to decide who your agent's going to be," Amy advises. Otherwise, you might not be able to have your own representation down the road.
Working with a knowledgeable buyer's agent shouldn't cost you a thing. In most cases, the seller pays the agent commission.
Don't Expect a Big Discount
Most buyers go into a home purchase expecting to wheel and deal on the price. While that's certainly common in the resale market, new homes are a little different.
"That negotiation process just doesn't seem to be there now," Amy says.
Phil agrees. "The builder may help you out with some extras in the home, but there's not going to be a lot of leeway in their closing costs or purchase price," he says.
This is where having your own agent comes in handy. An experienced agent knows what makes the different builders in your market tick and brings a creative mind to the negotiation table. If your builder won't bend on price, your agent may be able to work other incentives into the contract price.
Budget for Hidden Costs
Out-of-pocket expenses have a funny way of sneaking up on new homebuyers. That's because those dollar signs you see on the sticker are just the tip of the price-berg.
Upgrades cost money and may or may not be rolled into your contract price. Play it safe by budgeting for only those you can cover with cash. Don't know where to start? Amy suggests asking your builder these questions:
How much does your typical buyer actually spend on upgrades?
What's included in the base price?
What will be an additional cost at closing?
Post-move necessities—like landscaping, blinds and fencing—also catch many new home buyers off guard because they're items that would normally be included in an existing home. Work with your agent to make a list of potential expenses so you can plan for them ahead of time.
Don't Skip the Home Inspection
You might think there's no need to hire a home inspector for a brand-new home. After all, they have multiple inspections throughout the build process.
But even a new home can have issues. "The county is only making sure it's inhabitable," Phil says. "A home inspector is an independent person representing you as the buyer to ensure you're comfortable with the product you're purchasing."
Remember, homes are built by people, and humans don't exactly have a track record for perfection. "The $300–400 you pay a home inspector is nothing compared to the cost of a major problem," Phil adds.
Buy a Home You Feel Good About
If you're not sure whether building a home is right for you, talk to an agent you trust.
A home is a huge purchase, and you should feel empowered in the decisions you make with your money. A good agent listens well and takes time to explain your options in terms you can understand.
Building a home you love takes time and money, and you'll have a lot of choices to make along the way. But with the right agent by your side, you can feel confident your new home will be a blessing for many years to come.